The Privileges Committee has summoned the Member of Parliament for Dome-Kwabenya, Sara Adwoa Safo, through the media.
This is after several attempts to reach her proved futile.
A Parliamentary Service notice issued on Tuesday, June 14, said she should appear before the Committee on Wednesday, July 6.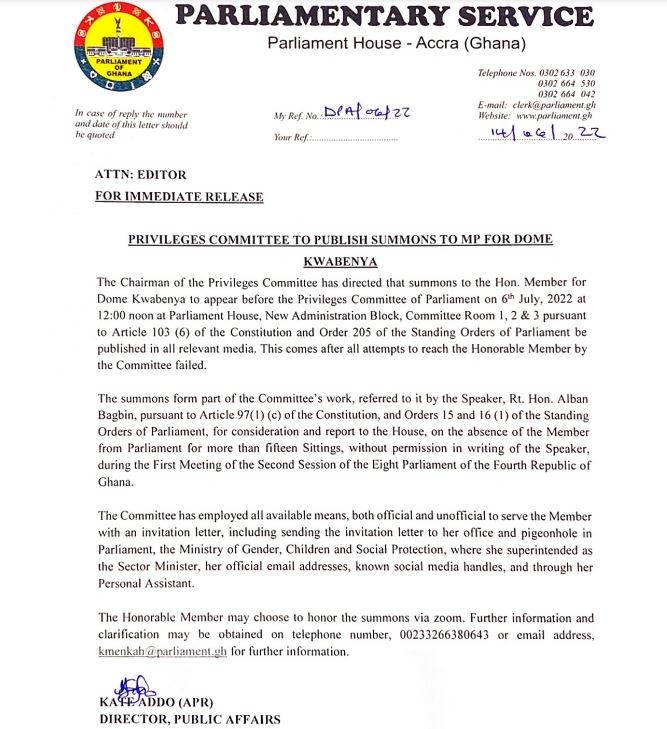 "The Chairman of the Privileges Committee has directed that summons to the Hon. Member for Dome Kwabenya to appear before the Privileges Committee of Parliament on 6th July 2022 at 12:00 noon at Parliament House, New Administration Block, Committee Room 1, 2 & 3 pursuant to Article 103 (6) of the Constitution and Order 205 of the Standing Orders of Parliament be published in all relevant media. This comes after all attempts to reach the Honourable Member by the Committee failed," a statement from the Parliamentary Service said.
The Chairman of the Committee, Joseph Osei Owusu directed that the summons be published publicly as the Member of Parliament has been unreachable.
The Privileges Committee was tasked by the Speaker of Parliament, Alban Bagbin, to engage Adwoa Safo, Kennedy Agyapong, and Henry Quartey over complaints of chronic absenteeism brought against the MP.
However, several attempts to reach her have been unsuccessful.
The Dome-Kwabenya legislator also insists that she has not been served any notice to appear before Parliament's Privileges Committee.
The Gender Minister revealed this in an interview with JoyNews.
"I am not aware such a thing has been given to me. I am just hearing it from you. As we speak, I don't know that I have been invited.
"I have to be served," she added.
Akufo-Addo extends Adwoa Safo's leave from office
On October 6, 2021, President Akufo-Addo extended the leave of absence from office for the Gender Minister.
The Dome-Kwabenya MP's leave, which she sought for personal reasons, was supposed to have ended on August 31, 2021.
However, the former Procurement Minister could not resume and requested an extension. It did not, however, state when she will resume.
"In her absence, and until further notice, President Akufo-Addo has directed the Minister for Sanitation and Water Resources, Cecilia Abena Dapaah, to act as caretaker Minister," the Presidency said.
Source: Myjoyonline.com